Early Intervention Services
Early intervention refers to services that are provided to children from birth to three years of age.
These services are dedicated to assisting children that have a special need that hinders the development of their skills. Some children are developmentally delayed while others are at risk of becoming delayed. Early intervention services are meant to help a child reach their potential. Occupational therapists are trained in early childhood development and are prepared with the tools to challenge each child individually. Early intervention deals with a wide range of developmental challenges from a slight delay to a lifelong disability. Some cases that we may see are delays due to premature birth, feeding concerns, sensory issues as well as children diagnosed with autism, Down syndrome, cerebral palsy, learning disabilities, etc.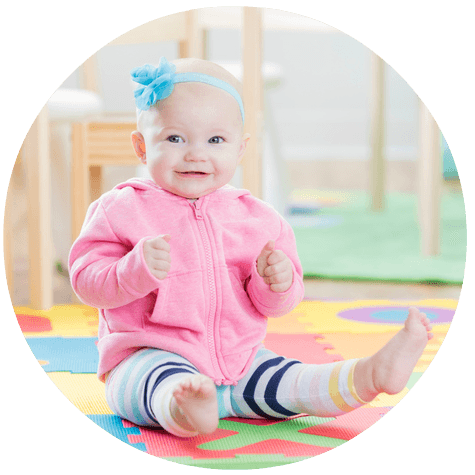 Early intervention services are typically provided by occupational, physical, speech-language and developmental therapists. All About Therapy specializes in occupational therapy early intervention services. Occupational therapy services are completed in the child's natural environment such as their home, daycare, preschools and community settings. The focus of therapy is individualized to each child and assists in their social, motor, adaptive, emotional and/or cognitive development.
It is important to take advantage of the early stages of learning, especially when a child is ready to learn a new skill. During this time of readiness, it is an opportune time to teach this new skill. If this opportunity is lost, it may be more difficult for the child to achieve a particular skill at a later time.
Early intervention not only benefits the child but the family as well as it has long lasting benefits. Many parents have improved outlooks because they are more informed and more equipped with the skills for helping their child grow.
How Does All About Therapy Perform Early Intervention Services?
Our early intervention services are provided in the child's natural environment at a time that is optimal for the child and their parents. All About Therapy works carefully with families to determine when and where to schedule therapy.
To best serve the needs of the child, and to facilitate natural child development, therapy is provided when the child's goals are naturally occurring. Your child can be seen at any point morning to night, any day of the week. By putting the child first, All About Therapy is extremely flexible in scheduling appointments, which may be during breakfast, immediately after nap time or during art time at preschool. The therapist will be in contact with the family if the child is seen at a daycare or a place where the family may not be present to provide updates, observations and feedback of the sessions.
One key to a successful outcome is educating the family so that they understand how the environment and the dynamics of family life play a crucial role in their child's development. This is accomplished with a dialogue so that family routines, interactions and daily habits are understood so the therapist and family can work on the goals together. The therapist will educate the family by explaining the child's specific area of need and provide suggestions to assist with the child's progress during the week.
It's important to keep the family abreast of how therapy is progressing and what they can do at home to become a continuation of therapy. While the therapist is giving treatment, the parents are encouraged to assist with therapy. This way the therapist can critique the parents and provide positive feedback to ensure that proper treatment is continued throughout the week. The therapist will be available to address any concerns or answer questions to encourage the family's active and vital role in the therapy process.
Contact us and learn more about how we can partner with you and your child to enhance their potential for growth, development and independence.
We work with families throughout the Raleigh, Durham and Chapel Hill NC areas.