Pediatric Occupational Therapy
Occupational therapy (OT) enables people of all ages to enhance their lives by participating in everyday activities while enhancing development and function.
Occupational therapists are trained to look at a person holistically to improve overall quality of life. Pediatric Occupational Therapists focus on promoting function and engagement of infants and toddlers and their families in everyday life. Family centered care is imperative as the child needs to feel comfortable in their environment. Occupational therapists support family members and caregivers to ensure a child's participation in home and community life.
As children learn best through naturally occurring experiences, therapists incorporate activities of daily living (ADL) into their treatment. Such ADL's for children are play, education, eating, and dressing. These ADL's fit into areas of development that include physical, sensory, communication, cognitive, adaptive, self-care, and social-emotional domains.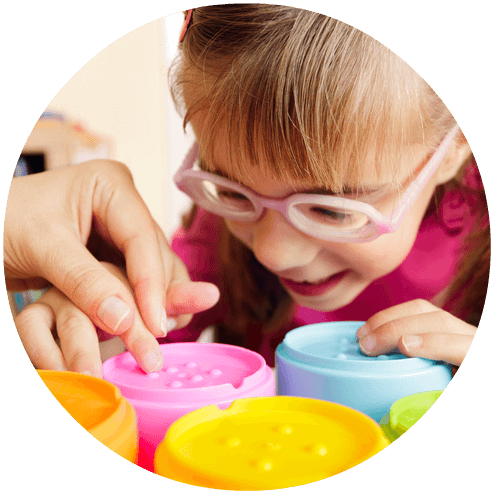 Pediatric Occupational Therapists bring specific knowledge and expertise to appropriately address each child's individual needs.
To enable function a Pediatric OT will:
Educate parents on how their child's disability impacts areas of development
Assess children's developmental and learning needs
Develop goals to support areas of need
Change the environment or identify assistive technology devices needed to help the child participate in ADL's
Provide strategies to facilitate full participation of all children in daily routines
Plan and implement developmentally appropriate activities to help meet a child's goal
Prepare children and their families for transition to community-based programs such as schools
Who do pediatric occupational therapists help?
Many kids will see an occupational therapist for a variety of reasons. Most have difficulty completing things that they do every day. These activities might include dressing, staying in his/her seat or sitting upright at school, feeding themselves, paying attention, turning pages of a book, writing, cutting with scissors, or coloring in the lines. Other children may have a diagnosed condition such as cerebral palsy who will find daily activities more challenging.
Lack of attention to task
Poor handwriting
Fine motor delays
Difficulty grasping or holding on to toys
Unwilling to eat certain foods/textures
Under or Over responsive to stimuli (lights, movement, noise)
Low muscle tone/weakness
Following directions
Lack of social skills or eye contact
Delay of developmental milestones
Poor coordination
Clumsy
Contact us and learn more about how we can partner with you and your child to enhance their potential for growth, development and independence.
We work with families throughout Raleigh, Durham, Chapel Hill and the surrounding areas in North Carolina.