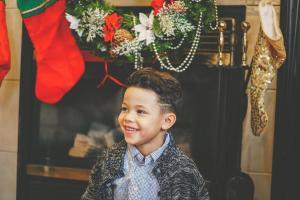 Are you parenting a child with special needs and wondering how to make Christmas more fun and less stressful? Whether you have one child or a family of many, including typically-developing kids, there is so much to consider. From travel to flashing lights on the tree, visitors to gifts they'll actually like, the holiday can become overwhelming for parents. As a parent of 4 children (two of whom are on the Autism Spectrum), I'd love to share my tips for what has worked with my family.
Before Christmas:
1 – It may be comforting to your child with special needs to know exactly when "the Christmas season" will begin and end. Set a firm date for putting up decorations and another for taking them down. 
2 – Create a visual calendar of special events you plan to attend at Christmastime. Review the calendar often with your child. Be careful not to wear yourself and your family out with too many special events, because that won't be fun or memorable.
3- What about sitting on Santa's lap at the mall? After waiting in what was probably a long line filled with anxious children? Consider skipping it. If your child is on the Autism Spectrum or has sensory processing disorder, you are setting them up for a potential meltdown. If you have other children who are excited to see Santa at the mall, my best advice is to leave your child with special needs at home with a loving caregiver.
4 – Shop online. The last thing you want to do is take a child with special needs to a crowded, noisy, overstimulating shopping center. If you must shop in a store, try to do so when your child can be cared for by others. 
5- In preparation for Christmas morning, share a social story or picture book with your child. Be sure to let him know in advance that the schedule will be different on Christmas day.
Gifts:
6 – Finding and choosing gifts for children with special needs can be a challenge. Every child, whether they have special needs or not, is different! If you need ideas, ask your Occupational Therapist or check out these websites:
https://www.especialneeds.com/shop/special-needs-toys.html
http://www.specialneedstoys.com/usa/
Or you can search Amazon.com using the terms "gifts for special needs kids" and "gifts for special needs children". The list will change daily!
My favorite item I've come across this year is the Manimo Weighted Dolphin. Find it here: http://www.specialneedstoys.com/usa/proprioception/manimo-weighted-dolphin.html My kids will be getting one of these under the tree this year to help them be calm and focus during homework time. 
7- If you end up with many gifts under the tree for your child (relatives can be very generous!), this can be overwhelming for a child with special needs. Try opening a couple of gifts the day before Christmas, some on Christmas morning, and the rest within a day or two. There's no need to pressure your child to open them all on one day.
8 – There have been holidays where my child with special needs was so thrown off by the different routine that they did not appear to like or enjoy their gifts. Usually the next day, my child was much happier and began to play with the gifts. The first year this happened, I was privately upset and disappointed, but now I know that what was really bothering them was the stress of the different routine, not the gifts.
Other Factors to Consider:
9 – Maintain sleep schedules and bedtime routines throughout the holiday season! Overtired children (and their parents) won't enjoy much of anything!
10 – Manage relatives and visitors. Prepare your visitors in advance of anything that would help your child feel comfortable (ex: no hugging). Try to set and kindly enforce an end time to any gathering in your home. Allow your child with special needs to take breaks from the gathering when needed.
Parents, everything is not going to be perfect and that is OK! Consider what traditions would be meaningful for your child and feel free to skip those that would only cause stress. Christmas with your child may not look like the Christmas you grew up with, and it may not match what you see on TV or on social media feeds. That is OK too! The true spirit of Christmas isn't about how many decorations you put up or how many events you attend. Only do what works for you and your family.
Merry Christmas from our family to yours!