For the Family with Special Needs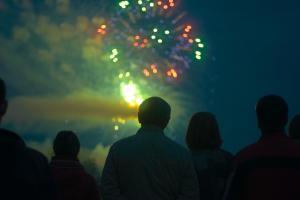 The calendar may say mid-Spring, but parents, we all know May is a quick and busy blur of end-of-school activities. Before we know it, it's summer! It's not too early to begin thinking about the Fourth of July holiday. 
For many American families, the Fourth of July is a fun-filled family day of outdoor activities, culminating with a fireworks display. However, for families with a child with special needs, the Fourth of July can quickly bring on sensory overload and other challenges. With a few adjustments, you can still have a successful day. Here are our tips for a fun and safe Fourth:
COOKOUTS & FAMILY GATHERINGS
Bring your child's food if he is on a special diet, has food allergies, or is limited in what he can eat. This is not rude and your host should completely understand. It's best not to force unfamiliar foods on a child who has dietary limitations, as this may lead to an unnecessary reaction or meltdown.
Set firm start and end times to your visit. This will help a child who thrives on a schedule. Don't skip any regular nap times.
Bring a familiar comfort item if this would help your child feel calm in a new environment. Ignore relatives who say your child is too old, or other criticism. You know your child best, so do what works best for him!
BEACH & POOL
Be extra, extra careful around water. Many children with autism are drawn to water and cannot swim. The best safety device available is a parent or adult who closely supervises the child.
Bring along any flotation device your child will tolerate. If he's unable to use a standard flotation device, get a suit with built in flotation, such as this one: Flotation bathing suit
Another safety essential for children who tend to wander, cannot speak, have serious allergies, or other issues is an ID bracelet. I recommend one that is soft and very difficult for the child to remove. You can customize it with your contact information if your child is ever separated from you. I like the Alert Me bands found here: Alert Bracelet
Remember your sunscreen and water! A hat and sunglasses are also very helpful for kids with visual sensitivities.
FIREWORKS DISPLAYS
Everyone wants to see fireworks on the Fourth of July, right? If your family plans to see them outside, please remember that fireworks displays are an intense sensory experience. Not all children can tolerate the noise and lights, in addition to crowds. If you have a child with special needs and you aren't sure whether fireworks displays are a good idea, consider these tips:
If your child has sensitive hearing, I strongly recommend a pair of noise cancelling headphones or ear plugs (we prefer headband style, like these: headband earplugs). You don't have to spend $200+ to get a good, child-friendly pair. Amazon has many styles: headphones
If you purchase headphones or earplugs, help your child practice wearing them several times before the Fourth of July.
Try parking far back from the crowds and sit close to your car. The noise may be less intense and you can take a break inside the car if needed.
For a child with visual sensitivities, bring a hat and sunglasses.
If you have access to an inside location from which to see the fireworks, I strongly recommend sitting inside. This is the option that has worked best for our family. We are away from the crowds and heat, and loud sounds are muffled.

 

If attending a fireworks display in person is not a good option for your family, remember that you can see them on TV. PBS usually shows the national display from Washington, D.C. And you can control the volume!
We at All About Therapy wish you and your family a happy Fourth!
* Disclaimer: Neither All About Therapy, LLC nor Jeanne Moore endorse products featured in this article. Links to products are provided as examples only. We receive no compensation from any companies or brands featured.